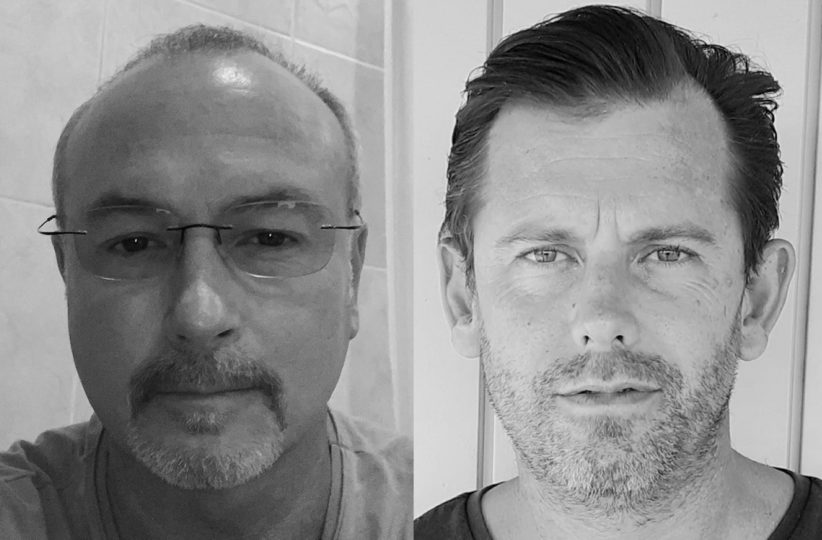 In loving memory of our friends and colleagues,
Stephen "Luke" Atkinson (1963-2020) and Trent Lee (1979-2020).
We are in mourning after the terrible loss of two colleagues in the tragic accident in the Solomon Islands.
Luke Atkinson was a New Zealander with dual NZ and British citizenship who worked for Norwegian People's Aid in many Mine Action operations across the world. He was a good friend and colleague, and had a close and personal relationship with many of us.
Trent Lee had been working for Norwegian People's Aid since July and was an Australian citizen.
Both dedicated their work to rid the Solomon Island community from the scourge of explosive remnants from the Second World War. Our thoughts go to the families and friends left behind, and we hope their memories of their loved ones will offer some comfort in the difficult times ahead.
Condolences protocol
Submissions for Condolences protocol
<< First Page | Page 1 of 9 | Next Page > | Last Page >>
| | |
| --- | --- |
| Anne Lill Kvam | My deep condolences to the families and friends left behind. I want to thank Luke for friendship, wonderful stories and a strong and creative colleague. Rest in Peace, what a loss. |
| John Sörbö | On behalf of the DRC – DDG programme in Nigeria; our deepest sympathy and condolences to the families and NPA colleagues of Luke and Trent. Luke and I reconnected last year when we both attended training courses at MAT Kosovo in Peja. Unfortunately, I never had the opportunity of meeting Trent. Please know that you are in our thoughts and prayers during this incredible difficult time. |
| Ananda Rajakaruna - Sri Lanka. | May you attain the sublime bliss of Nirvana…! |
| Debbie White | Deepest sympathy to family and friends of these two heroes. I respect all each of you do. Valerie Warmington is a long time family friend of my son Stephen Freitag. Debbie White, World Oceans Day dot ca |
| Mohammad Ashraf Safi | My deepest condolences to their families, friends, and NPA colleagues. May you rest in peace |
| Justus Okoko | My deepest condolences to family, friends and your loved ones. This is also a great loss to the Mine Action for sustainable development fraternity. I knew Luke from our work in Angola. I'll always remember the memorable moments we shared in Huambo and continue to laugh at your jokes. You had real dedication to call of duty and many special qualities in the sphere of service to humanity. May your soul rest in peace. |
| Kenan Muftic | My deepest condolences to their families, friends, and NPA colleagues. May you reest in peace. |
| Leonard Kaminski | oh no, my dear friend Luke has passed on in his prime. It is to him I say, save a chair, as we'll be there, in our own time. RIP friend. |
| Eva Thorne | I'm so very sorry to read this sad news. I met Luke years ago when both of us did work on a mining project in Guinea. He struck me as dedicated, bright, and decent. Such a loss! |
| ellington matyukira | My condolences its so unfortunate may your souls rest in peace and may the families you left behind find comfort from the Lord |
| Louis Anderson | RIP Luke, leaving behind good memories |
| Emil Jeremic | Thank you Luke for everything. I was immensely impressed by the tremendous work you did in Sri Lanka, when we first really got to know each other. You were a catalyst for solving the mine problem in the Vanni. Refining the rake method, ensuring that tens of thousands of landmines were cleared and countless lives and limbs saved. Linking the efforts across the front line, seeing the bigger picture. Transforming the programme after the tsunami, together with many colleagues ensuring that focus was channeled to support in the rescue effort and rebuilding when it was most needed. Always busy, always pushing limits with your unconventional, innovative and open-minded approach. Wherever you went you left your footprint and a legacy. Always somewhere in the field. One of the true pioneers of humanitarian mine action. Luke, you have left a legacy of a safer world, safer communities on three continents. Not a small accomplishment, and no, I won't mention your accountancy skills, that would definitely be inappropriate! Thank you for your friendship, humor and wisdom, I struggle to come to terms with your passing. My thoughts are with your son, sister, family and friends. Rest In Peace, the whole world is mourning you. |
| Emil Jeremic | I am sorry I did not have the opportunity to meet you Trent, as you joined NPA relatively recently. My thoughts are with your loved ones, I share their pain in these difficult times. I understand you were quite an adventurer, I was told you were an accomplished cave diver and a person who appreciated nature to the fullest. I am saddened by your passing so suddenly and so early and for all the things that will be left undone. I thank you for your selfless service. Rest In Peace. |
| George Nissan | My condolences and sympathies go out to your families. May God give you the peace that you seek. |
| Jessie Zhang | My codolences to your family and may you rest in peace in heaven, Luke. |
| Kirk LaGory | What a horrible tragedy. I worked with Luke for a brief period a few years ago and he provided amazing support for our field survey work, keeping everyone safe. He will be missed. My condolences to families, friends, and colleagues. |
| Paul Murray | Luke, you were a creative pioneer...a maverick at times..but such as you are rare and neccesary. I met you during your one man demining project in Karen State, you armoured a rice tractor and devised a way to clear a village for 5000 dollars... while providing the means to farm it after clearance. It was that practical ingenuity., that drew me to mine action. You went where no one else would go. In the pacific you devised ways to address an unacknowedeged problem... you were on track.. in so many ways. Id say rest in peace.. but i know youve just crossed another frontier.. |
| Linsey Cottrell | My deepest condolences to their families and all their friends and colleagues. |
| James Martin | Luke, mentor, inspiration, guide and loyal friend. I was so looking forward to the catch up call we had planned for the Monday morning, before your tragic and untimely accident. I had hoped that I might have been able to help find solutions to the challenges you were facing in the Solomons. I had hoped too that I might be able to convey my appreciation and admiration for you and our friendship. The adventures shared in Tamil Eelam and Angola, both the highs and lows, will always be among life's highlights. I will always carry a part of you, I will continue to laugh at your jokes, and will always aspire to emulate some of your many special qualities. It has been a while since our paths last crossed, but it was always reassuring to know that one day we would meet again. Coming to terms with the reality that this is no longer the case will take time. The world is a little darker in your absence. Rest in peace, friend. Love James, Barira, Inaaya and Amelia |
| Folke Wallberg | There was the one and only Luke, a man with great ideas, still anchored in the ground. Im greatful for the short time I knew you. You are already missed. |
| Helena Gulibert | My deepest condolences to Luke's and Trent's families, friends and colleagues, especially to Luke's sister and son, Sebastian. I have known Luke since he first arrived Palau as the Prog. Manager for NPA-Palau. His dedication to save lives from UXO/AXO was incredible. One of his future plan was to also expand the project throughout Micronesia. Luke was an incomparable colleague and a close friend. We spent times professionally and socially. Even though I hardly laughed at his jokes, I loved his laid back demeanor and positive attitude. Luke, your dedication and commitment to mine action, and your contribution to the Palau community was massively felt. You touched so many lives all around the world. Still difficult to believe that you are gone. Had I known that your phone calls, especially on that day was to be your last, I would've kept you on the line a bit longer. God rest your soul in peace and the angels to always be there with you. Rest in Peace, Lukas. Your memory lives on |
| Tutii Chilton | On behalf of the Palau Energy Administration (PEA) we would like to send our prayers and thoughts to the family of Luke and Trent. PEA worked closely with Luke on a project in Kayangel, one of the outer islands of Palau. Luke will be remembers fondly by all of us at PEA who worked with him. May the Almighty continue to bless Luke and Trents family. |
| Kristina Duric | My deepest condolences to the families, friends, and loved ones of Trent and Luke. Thank you for your unreserved dedication to making our world a safer place. May you rest in peace. |
| Hans Risser | Rest in peace dear friends and colleagues in the Pacific. We will remember Luke's many contributions to the mine action sector and Trent's passion for clearing the Pacific of explosive remnants of war. Gone, but never forgotten. |
| Chris Ramsden | I knew Luke from working with him in Palau and what a great work he was doing in the Pacific. I did not know Trent but as a fellow Australian working in EOD also in the Solomons I feel for his family at this time. Deepest condolences to family and friends of these two men, working to make the world a safer place. |
<< First Page | Page 1 of 9 | Next Page > | Last Page >>