Somalia remains one of the most complex and longstanding humanitarian crises in the world. This has resulted in protracted economic vulnerability and loss of livelihoods, especially among farmers and agro-pastoralists. Amidst the humanitarian crisis, Somalia continues to suffer from the negative impact of landmines, cluster munitions, and unexploded and abandoned Explosive Ordinance (EO), preventing socioeconomic development. EO poses a threat to urban and rural communities, and landmines block access to grazing land.
The perceived value of explosives and metal from EO also encourages people to take risks in order to harvest them, while insecure ammunition storages are at risk of theft and accidental detonation.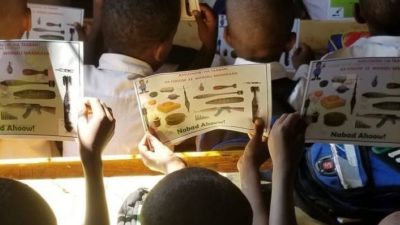 All of these factors are also visible in Puntland state, where civilians suffer from the negative impact of contamination stemming from wars and conflict over several years, often living amongst legacy minefields or EO stemming from violent battles, littering the border between Ethiopia and Somalia or Puntland and Somaliland for decades. The actual threat from EO has only been partially mapped in Puntland and more work remains to be done to identify the remaining contamination, although much work has been done to map its humanitarian impact.
In its 2021 extension request to the Article five extension committee, SEMA reported a national remaining contamination of 125 suspected and confirmed mined areas, covering an estimated total area of 16,200,000 square meters. However, an accurate survey of all known or suspected mined areas needs to be undertaken in the country to confirm these figures as previous efforts for a nationwide survey had proven difficult to undertake due to insecurity.
What do we do, the problem and our progress
NPA commenced mine action and disarmament activities in Somalia in 2014, after receiving its registration in 2013, and since then has gradually increased its footprint throughout Somalia in response to the threat posed by mine and EO contamination, caused by past conflict with Ethiopia, civil war and current fighting against non-state armed groups.
NPA Somalia activities over the years includes capacity development of national mine action authorities and partners for future independent mine clearance activities, as well as self- implemented mine clearance activities and Conflict Preparedness and Protection (CPP) activities targeting the training of first aid responders in Mogadishu.
NPA is currently working within Mogadishu and Puntland state. The programme is well respected by national authorities and other international operators in-country and is the preferred partner of Somali Explosive Management Authority (SEMA) Federal in terms of capacity development for mine action, in an effort to make Somalia free from the negative impact of explosive ordnance.
Fast facts
MBT: State Party; Clearance deadline: 1 October 2022, Extension requested to 1 October 2027
CCM: State Party; Clearance deadline: 1 March 2026
On 16 April 2012, Somalia became the 160th State Party to accede to the Mine Ban Treaty
With 2.9 million people estimated to be internally displaced throughout the country, Somalia has one of the highest numbers of IDPs in the world.