Bolivia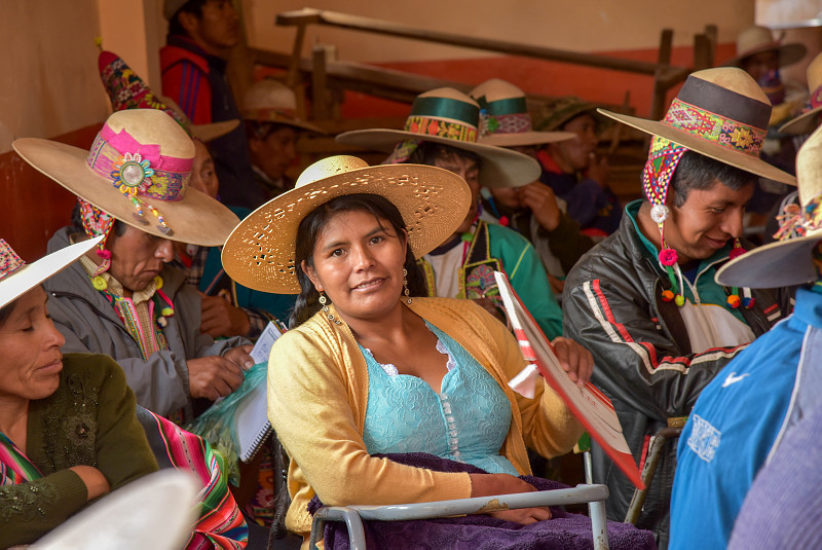 Bolivia is a country of great social and economic disparity, as well as discrimination against its indigenous peoples, who constitute the majority of the population. Around the turn of the century, social movements in Bolivia, particularly those involving indigenous people and farmers, experienced expansive growth. The front-line issues that led to this mobilisation were the struggle for self-determination, especially in relation to the exploitation of multinational companies, and the fight against historical inequality, discrimination and injustice. The mobilisation resulted in demands for greater democracy, national control of natural resources, land rights and a movement away from neo-liberalism towards a new, more inclusive, stronger state.
In 2006, the indigenous peoples' and farmers' movements contributed to the election of the country's first indigenous peoples' president, Evo Morales. Work began on drawing up a new constitution in the following year, and this was adopted after a referendum in January 2009. The new constitution laid the foundation for broader social participation and democracy, confirmed indigenous peoples' rights and national control of natural resources, and declared Bolivia to be a plurinational state (estado plurinacional). The country implemented a number of reforms that managed to reduce poverty and inequality to a considerable extent, increase production and economic growth, and introduce comprehensive decentralisation processes in order to strengthen democratic participation.
Collaboration between the authorities and some of the social organisations has nevertheless become more confrontational in recent years, particularly in relation to reallocation of land and government support of industrial agriculture. The political changes introduced under Morales also provoked Bolivia's traditional power elite, who wanted a return to neo-liberal policy in order to maintain their privileges, based on the exploitation of natural resources and oppression of indigenous peoples.
Pressure from the army in connection with national elections led to Evo Morales stepping down from the presidency on 10th November 2019. Bolivia is now in the midst of a considerable political crisis. Following the electoral coup, many social leaders, including those of our partner organisations, have been subjected to attacks and oppression, and a number of local radio stations have been wrecked.
Norwegian People's Aid partners are now working to defend the positive changes that the country has undertaken in recent years, for the redistribution of resources and for the country to hold elections that are properly conducted.
Programme
Our main partners in Bolivia are the national indigenous peasants' movement, the peseant women's movement and their respective regional branches in Cochabamba and Santa Cruz. Collaboration is largely linked with organisational development, with particular emphasis on leadership development and political education. Many former leaders of the social movement have entered into local, regional and national politics and administration, resulting in the need to develop new leaders. There is also a widespread desire as well as need for political education for members at different levels concerning how the political system is built up and how one can influence political processes and develop legislation.
The Bolivian media are dominated by a small urban elite, and the development of alternative information streams is viewed as extremely important by the social organisations. Norwegian People's Aid collaborates with partners working to develop grass-roots media, with special focus on local radio stations. Support encompasses programme and programme-leader development, technical upgrading and skills enhancement, as well as cooperation between radio stations and organisations. Among other initiatives, three national networks have been established. The three collaborate in relation to the exchange of programmes, expertise and technology.