A Field of Mines and Hope
On a sunny day in August 2017, Fadi and two of his friends decided to go for a hike. Without knowing, they entered a minefield.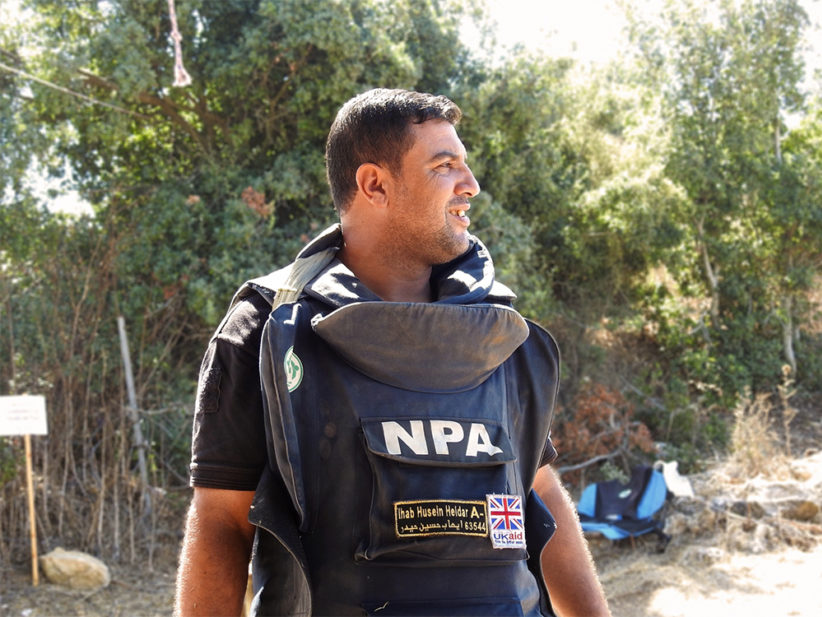 With its high pine trees and green hills overlooking the valley, Sammoukha in South Lebanon is a popular spot for treks and picnics. But Sammoukha is also an area where Israeli Forces planted more than 7,000 deadly landmines back in the 1980's. Often unaware of the risks they face, many villagers and visitors enter it, seeking the pleasure of outdoor activities.

It was around mid-day on the 6th of August 2017 that Fadi, Nader and Maroun, three friends in their 20s, reached the place where they had planned to go hiking.

"I picked-up my friends around 1:00 pm and drove to Sammoukha. We parked on the edge of the valley and started the hike from there. While walking, we noticed a few dead animals on the way and a rock that looked like something from a fairytale. About an hour and a half later, we reached an olive plantation field. From there we climbed up the mountain, hiking between bushes and large rocks. We reached a junction where we could either take the right path, which seemed full of high shrubs, or the left path, with regular rocks and soil. We decided to take the latter, and Nader went ahead of us while me and Maroun stayed together."
That is when Maroun stepped on a mine.
"I flew 10 meters back, and landed right next to two mines", Fadi continues. "I silently lay on the ground with my eye, my ear, and my body bleeding. I then got up and started running, only to discover four more mines. I stopped and tried to take the same path back to check on Maroun after the smoke from the explosion had dispersed. That's when I found him sitting in a 1-meter deep pit right next to the explosion. I took off my belt and tied it around his now amputated thigh, and went searching for the missing part of his left leg".

"You may wonder why I kept moving in the field, knowing it was filled with mines, but the land was exposed and they were visible, I could see all their tips", Fadi explains.
Their lives were eventually saved when Nader, who was far from the explosion and thankfully did not get hurt, called the Army and the Red Cross for help.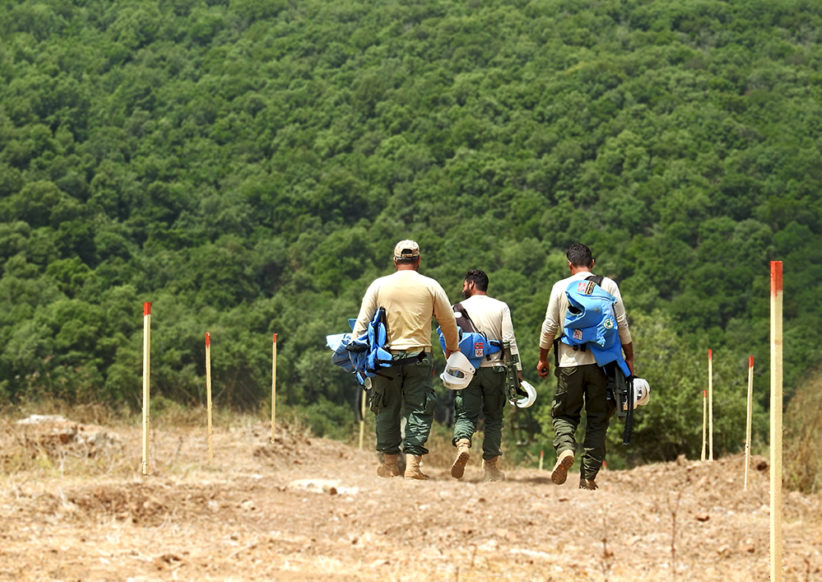 Fast forward two years, another story is taking place in that same minefield. The difference is this time, the risk is known and the outcome is planned.
On July 15th, 2019, Ihab Haidar, Norwegian People's Aid (NPA) Site Supervisor, packed up the structure of the Control Point with his team after clearing a minefield in Haramoun, to set it back up in Sammoukha. Ihab is responsible for a mine clearance team that includes ten deminers and two medics. His team is going to work on the same spot where Fadi and Maroun almost lost their lives. For the next weeks, they will painstakingly search for and destroy deadly landmines from the ground. This work is made possible thanks to funding from UK Aid to NPA and Mines Advisory Group's joint efforts to conduct mine and cluster clearance in Lebanon.

"Our day starts at 6:00 am, when we meet in front of NPA's office in Tyre. We get in the van, and drive 50 minutes till we reach the minefield in Sammoukha. The deminers put on their Personal Protective Equipment 'PPE', set up their metal detectors, and head out to the mine fields to begin clearing in lanes. We find and destroy 25 to 30 mines per day. Hopefully we will complete clearing the task next month, and the whole area within the next two years. Once we are done, it will be safe for use" Ihab says.

Two stories in one field, one of pain and the other of hope. This is a contrast often found in parts of the Earth where landmines are still a problem. They continue affecting innocent civilians long after a war has ended, if not physically or mentally, certainly through livelihoods.
But despite the tragedy, Fadi regained strength in his eye and ear and recently got a job in the field of jewelry, while Maroun received a prosthetic leg and now works with the Lebanese Army.

"Whoever asks me about this experience, my answer is that it was good, really it was good," Fadi positively expresses as he reminisces the memories of that day. "When the mine exploded, I lay down in a state of peace, as if I knew God was with me. Now I can see again, I can hear again, and everything is back to normal," he continues.

Although this experience has possibly granted Fadi stronger faith, minefields certainly continue to pose a risk. Hopeful about a future without mines, Fadi concluded the interview by a message he wanted to share with young Lebanese like him: "don't get close!"

The names of the mines survivors in this article have been changed for the purpose of confidentiality.

Project Details
Norwegian People's Aid, in partnership with Mines Advisory Group, has been granted financial support from the UK Aid Department for International Development (DFID) for an 18-month project running until March 2020. The objective of this project is to reduce the threats from cluster munitions and landmines and increase access to cleared land for socio-economic development in South Lebanon. NPA, in close collaboration with the Lebanese Mine Action Center, employs five teams responsible for clearing contaminated land from landmines and cluster munitions remnants. It is estimated that by the end of the project, more than 1 million square meters will be released and handed back to local communities thanks to the support of DFID.