The ongoing armed conflict in Yemen has produced the greatest humanitarian crisis in the world. Based on the 2022 Humanitarian Needs Overview for Yemen, 23.4 million people are estimated to need humanitarian assistance in 2021; 12.9 million people of whom are estimated to be in acute need.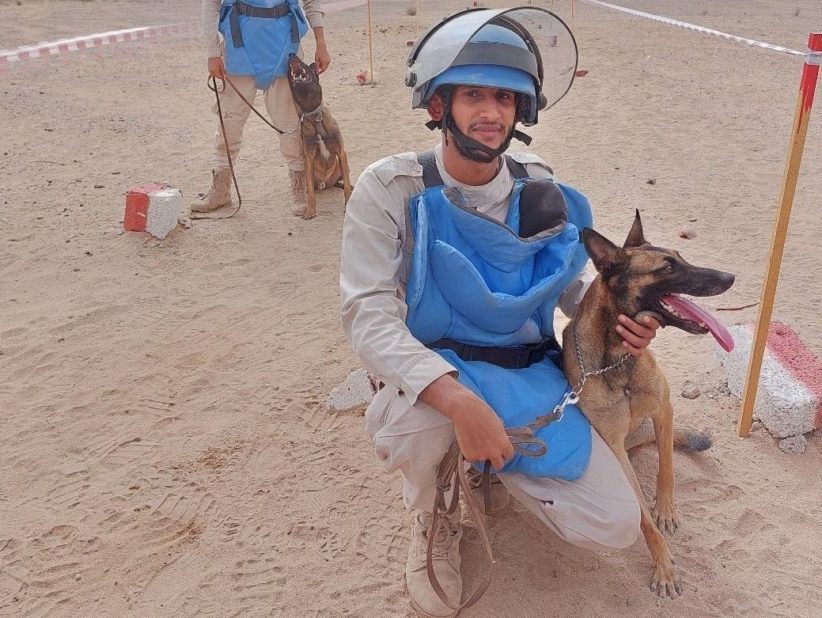 The successive waves of armed conflict that have erupted in the country since 1962 have produced massive Explosive Ordnance (EO) contamination. The current armed conflict, in its eight year has dramatically increased both the scale and the complexity of the EO contamination, the total extent of which is still yet to be determined.
Much of the population of Yemen now live in or near areas heavily contaminated by EO. The contamination is complex and includes landmines, improvised landmines and improvised explosive devices (IEDs), cluster munitions, and large air dropped weapons in addition to the full complement of conventional EO employed by ground forces. The massive scale of the EO contamination presents a daily threat to the lives and livelihood of civilians in Yemen and hinders humanitarian access and programming.

NPA performed an initial assessment visit to Yemen in 2017 and subsequently entered into a joint project with UNDP in 2018 to establish mine detection dogs (MDDs) capacity for the Yemen Executive Mine Action Centre (YEMAC). NPA has trained 12 YEMAC MDD handlers by 31 December and since March 2022, MDD assets have been deployed alongside two YEMAC Technical Survey (TS) teams in Aden under supervision and support from the NPA Technical Advisors.
NPA has established a permanent presence in Aden and was formally registered with the Ministry of Planning and International Cooperation (MOPIC) as a humanitarian mine action operator on 25 November 2022. By establishing a Mine Action and Disarmament programme, and establishing and maintaining MDD capacity development project, NPA intends to respond to both the urgent humanitarian and protection needs present in Yemen, and also to help the Yemeni government work towards meeting their treaty obligations.
In addition, NPA is implementing an EORE (Explosive Ordnance Risk Education) and Conflict Preparedness and Protection (CPP) project in four governorates of Marib, Al Hudaida, AlDale and Taizz. NPA plans to expand the scope of its support in Yemen to include Technical Survey (TS), Non-technical Survey (NTS), and EORE operations in 2022 and beyond. NPA is working on securing additional funding in order to expand operations in Yemen and provide much needed support to both the national mine action authorities and the civilians of Yemen.

Fast facts
Convention on Cluster Munitions: Yemen is not a state party
Mine-Ban Treaty: Yemen is a state party; clearance deadline: 2023
On 28 March 2019, Yemen submitted a third request to extend its mine clearance deadline. The request was granted at the Fourth Review Conference of the States Parties, Oslo, Norway, and a new deadline set for 1 March 2023. Yemen is planning to submit a fourth extension request proposed for 1 March 2027.