A great victory in the fight against urban warfare
After well over a decade of advocacy and political pressure, Norwegian People's Aid and other civil society actors were able to let out their cheers at the UN on 17 June. Finally, a political declaration regulating the use of explosive weapons in populated areas is becoming a reality.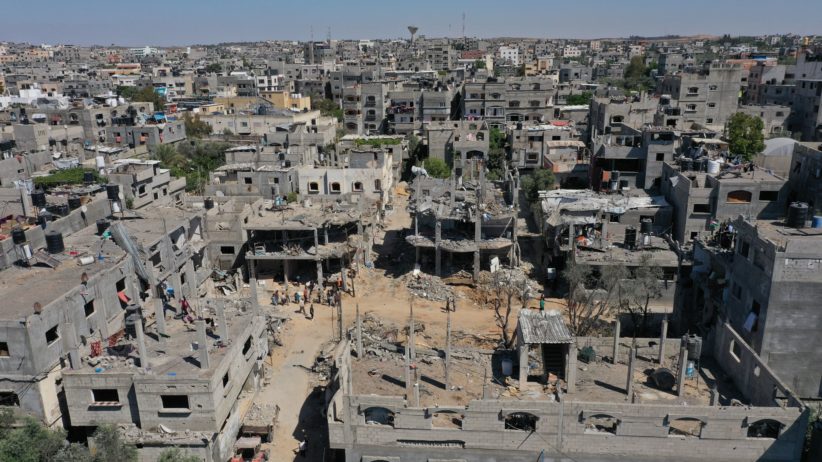 In recent decades, urban warfare has become the new normal in armed conflict. International humanitarian law requires all war combatants to use weapons that can distinguish between civilians and military, as well as to take all feasible precautions before an attack. Nevertheless, we see time and again that by default rather than as an exception, the planned/initial military targets are grossly missed or certain areas are bombed far too heavily.
When explosive weapons are used in cities, civilians make up over 90 percent of those injured or killed, according to statistics released by Action on Armed Violence (AoAV) last year, after collecting data from war zones over a ten-year period. The report quantifies a serious trend that NPA and other civil society actors working with disarmament and weapons issues have been warning about for decades.
"Through 30 years of clearing explosives after war and conflict, we have witnessed powerful and indiscriminate weapons increasingly being used in populated areas, killing, maiming and traumatizing civilians both during hostilities and long after a conflict is over. While the text isn't as strong as the civil society has been advocating for, it is still a huge victory that we found a compromise with the UN Member States and finally put in place a political declaration that improves protection of civilians," said a thrilled senior adviser for disarmament and weapons policy in NPA, Kristina Duric.

Positive consequences
NPA and the rest of the International Network for Explosive Weapons (INEW) have long fought at the frontline demanding that the international community confront this bestial form of warfare. It has been imperative to regulate the use of explosive weapons with wide-area effects, as weapons that were originally designed for vast battlefield areas.
"We reached an important milestone this June, following on from the meeting Vienna in the autumn of 2019, when more than 100 states agreed to initiate diplomatic negotiations on a political declaration. The work on the text of the agreement has been penned by Ireland, but due to the corona pandemic it has taken a little longer than planned. Now we're finally in port," Duric explained.
But what exactly does such a declaration entail in practice? Will it have any effect in practice when there is no ban on par with the Mine Ban Treaty, Convention on Cluster Munitions or the Nuclear Weapons Ban?
"Such a declaration will have several immediate positive consequences. It commits all signatory states to limit the use of explosive weapons in populated areas, and to assist survivors and victims and address the long-term impacts on civilian infrastructure."
The real work begins now
At the same time, it is important to emphasize that it is not the textual formulations in themselves that protect the civilian population, emphasizes Kristina Đurić.
"In order to ensure better protection for civilians in war zones against the rain of bombs, it is crucial that warring states confront their own practices for the use of explosive weapons. The political declaration is a good start to this, but although the declaration is now agreed upon, we in no way consider the work to ensure better protection of civilians to be finished, the real work only begins now."
The next step in the process will be the signing conference in Dublin later this year, where many states have already confirmed they will sign the declaration. It is also possible for states to join at a later date.
Facts about EWIPA
The Political Declaration on the Use of Explosive Weapons was finalised at the United Nations in Geneva on June 17 with overwhelming support from states. It will open for signature on 18 November 2022 in Dublin.
The Declaration recognises the humanitarian consequences of the use of explosive weapons in cities and towns and commits States to restrict their use and take action to deal with civilian harm and suffering.
The following countries have already confirmed that they intend to sign the declaration or that they are working towards this decision: Argentina, Austria, Belgium, Brazil, Bulgaria, Chile, Costa Rica, Finland, France, Germany, Guatemala, Italy, Japan, Mexico, Netherlands, New Zealand, Norway, Philippines, Poland, Republic of Korea, Spain, State of Palestine, Sweden, Switzerland, United Kingdom, United States and Uruguay.