Ambassador of Germany to Bosnia and Herzegovina paid a visit to the NPA land release task in Sapna
On October 19, 2023, H.E. Dr. Tomas Fitschen, the German Ambassador to Bosnia and Herzegovina, visited the NPA land release task "MSA Kikovi Zavid" in Sapna municipality.
As part of the "Majevica mine free 2022-2024" initiative, NPA's manual teams are conducting clearance and technical surveys in this area.
On this occasion, the Ambassador accompanied by military attaché Franz-Josef Nolte, BiH Minister of Civil Affairs Dubravka Bosnjak, and newly appointed BHMAC Director Enis Horozovic visited the NPA's ongoing operations.
The "Mine Free Majevica" initiative, jointly implemented by NPA BiH and MAG BiH, will remove explosive ordnance contamination from 26 square km2 of land containing an estimated 6,000 landmines, returning safe land to communities and enabling them to build a safer and more sustainable future.
During the visit, the NPA's Operations Manager provided an overview of the mine contamination problem and the activities of the project in the Majevica region. Following this, he led the Ambassador and distinguished guests on a field demonstration of mine detection dog's work.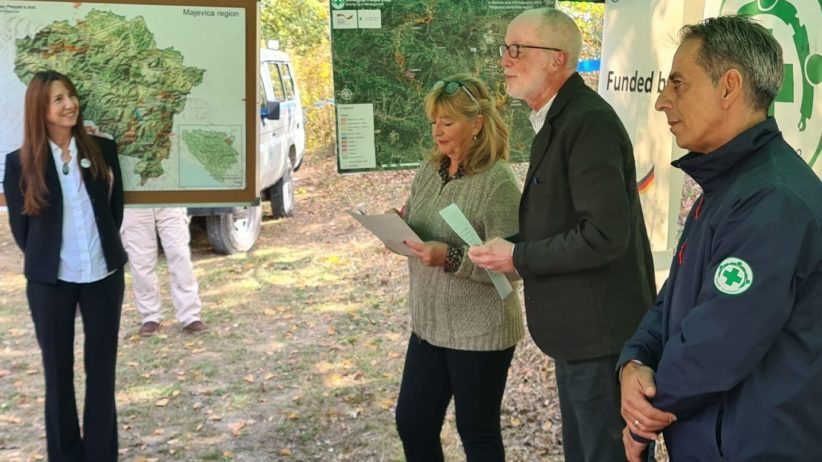 The Ambassador conveyed appreciation to NPA Country Director Valerie Warmington and the operational staff involved in this important life-saving work, emphasizing that "economic progress is frequently contingent upon cities, municipalities, or specific regions being certified as free from mines,", he concluded.
Land release operations for the project "Majevica mine free 2022-2024" are generously funded by the people and the governments of Norway and Germany and implemented in close collaboration with the Bosnia and Herzegovina Mine Action Centre (BHMAC).
The clearance of landmines is becoming an increasingly vital prerequisite for fostering economic progress in the Majevica region. This fact was also recognized by the five municipalities in this region—Sappna, Lopare, Ugljevik, Teocak, and Celic—working together across ethnic lines to develop strategies for fostering future economic development.
Thanks to the #OSCE Mission's support in promoting cooperation between municipalities, the mayors of five municipalities in the Majevica region showed that they are true leaders and took a step forward in order to unite their forces on the other side of the former front line, in the interest of the local population and their communities.