NPA Closing Clearance Programme in Albania after safely removing more than 39,000 pieces of unexploded ordnance.
The Small Arms Survey recorded more than 623 incidents in at least 106 countries and territories between 1979 and December 2019 related to unplanned explosions at munitions sites. Each event typically implies loss of life as well as damage to private property and civilian infrastructure and leaves a demanding legacy regarding the need for clearance of unexploded ordnance covering vast geographical areas. At least 100 persons have been killed and more than 590 injured in such events in Albania between 1997 - 2008.
Video: Completion of clearance in Albania
During that period, 38 unplanned explosions in munitions storages occurred in 17 different locations throughout Albania. Thousands of tons of ammunition exploded while leaving hundreds of tons of unexploded ordnance on the surface or buried in the ground posing a grave danger to humans and animals alike, as well as representing a substantial environmental hazard and impediment to use and development of contaminated areas.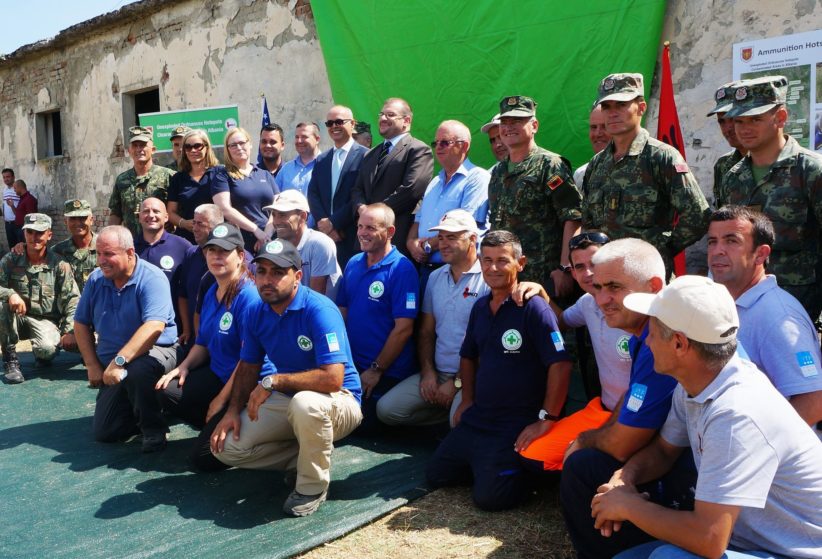 In 2014 the Government of Albania tasked NPA to clear seven locations littered with unexploded ordnance from unplanned explosions at munitions sites. Over a period of five years, NPA cleared 39,607 pieces of unexploded ordnance, 131,701 pieces of small arms ammunition and removed 3,049 small arms weapons from these sites. The total area cleared amounted to 759,210 m2, implying that one UXO was removed per 19 square meters cleared, indicating a high contamination density. Despite challenging clearance conditions, NPA has managed to execute our clearance work without any incidents or accidents, proof of our commitment to quality and safety.
Video: Map of cleared unplanned explosions in munitions (UEMS) hotspots
---
NPA's work of hotspots clearance directly contributed to increased security, safety and protection against explosive weapons for almost 3000 people living in the vicinity or passing through the cleared areas. More than 10500 people were indirect beneficiaries of NPA activities. Moreover, almost 2 tons of explosives were removed from these areas, significantly contributing to increasing of security in the wider area.

Throughout NPA activities in Albania external quality assurance and quality control was executed by Albanian Mines and Munitions Coordination Office. The areas were handed back to the communities for safe use after clearance was conducted. During implementation of the clearance programme, NPA engaged in a capacity building project with the Albanian Armed Forces which will clear the area that is contaminated due to being used as a training area and open demolition site. These teams can then also be used to deal with remaining threat posed by decommissioned firing ranges, that will also require systematic clearance before they can be safely used by the civilian population. This cooperation thus created a sustainable Albanian capacity and is an excellent example of civil-military cooperation. The clearance programme and capacity building effort were funded by US State Department through the ITF Enhancing Human Security.

In the end, we would like to thank the whole NPA Albania team, both operations and office staff, that have made this success story possible. Whole NPA Albania team have effectively worked themselves out of the job, and the commitment of NPA staff to getting the job done was inspiring.