Clearing buildings so that people can return home
In April 2021, NPA started high-risk search and building clearance in the al-Kalah neighborhood of Rawa, a small town on the Euphrates river bank in western Anbar.
By Marijn van Broekhoven

ISIS took control of Rawa in June 2014, upon which most of the residents fled the town, leaving behind their homes and most of their belongings. Rawa was ISIS' last held town in Iraq until they were driven out by the Iraqi army in November 2017. Since then there have been several accidents with people trying to return to their homes, a result of the many improvised explosive devices (IEDs) that ISIS fighters left behind in the houses and streets of Rawa.
Survived the explosion
Because of the remaining threat of IEDs and other explosives, most residents of Rawa have not yet returned. Yussef Shareef (44) and his family were one of the first families to come back to al-Kalah, Rawa. Therefore, Yussef has witnessed the devastating effects of the IEDs firsthand. In June 2020, Yussef himself survived an IED accident in the house of one of his neighbors. His neighbor had asked him to take care of his vegetable garden during his absence. One day Yussef went inside the house to search for supplies that he needed for the garden. When he tried to open a closet in which he thought the garden supplies were stored, there was a big explosion. Yussef recounts the moment he regained consciousness:
I couldn't move, so I yelled for help. One of my sons had heard the explosion coming from the house and he knew I was there so he came looking for me.
Yussef was taken by ambulance to Fallujah hospital where he immediately went into surgery. After a week he was sent to another hospital, in Baghdad, for further surgery. Since the accident Yussef has had seven operations, and he still has to undergo more. Although Yussef's recovery has been relatively successful, he still has difficulties moving his right leg so he has to use crutches while walking.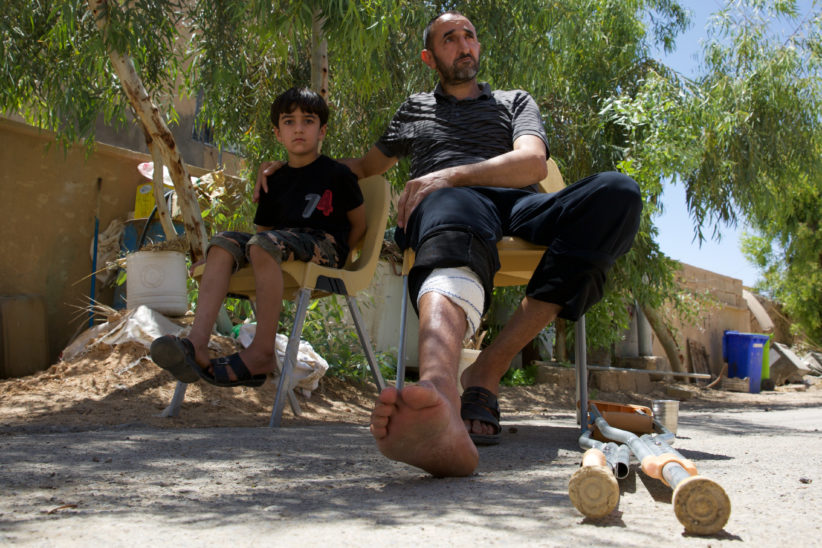 Nobody's safe
Yussef tells us about his younger brother, Sultan Shareef, who was less fortunate and got killed in an earlier accident in the same street. Sultan had Down syndrome and was also unable to speak. However, Sultan, who understood the dangers of the IEDs very well, was always warning others about the locations of IEDs through hand gestures and mimicking bombs going off. The explosion that killed Sultan occurred when he opened the door to one of the houses in the street. Yussef says he doesn't really know why Sultan went there as Sultan knew there were IEDs in the building. He says that Sultan couldn't always control his actions, so although he might have known about the IED attached to the door, it might just have been a very impulsive action to open the door. Suddenly Yussef's father, Shareef Mahmood (75), who had been silently listening to Yussef until then, says in a somber tone:
My son Sultan was always warning everybody about IEDs, and then he became a victim himself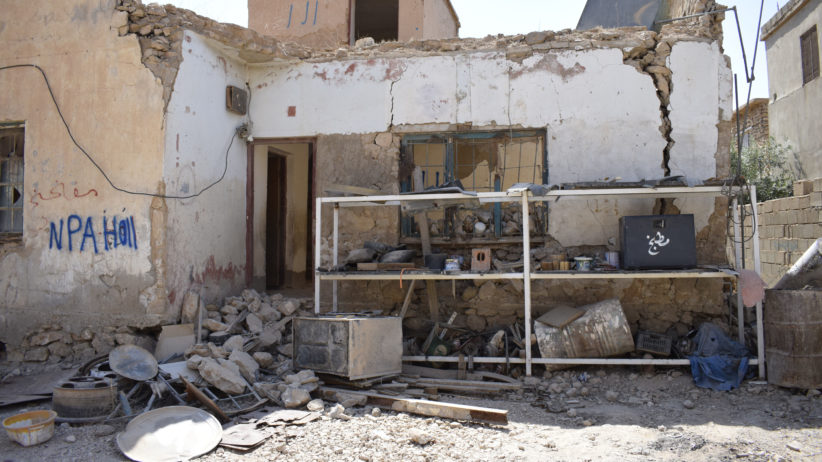 No longer a ghost town
The accident that killed Sultan took place in the summer of 2018. He was 19 when it happened. There have been many similar accidents with IEDs prior to NPA starting clearance of the buildings in Rawa.
Since April 2021, PM/WRA-funded teams have cleared more than 12,000 m2 in over 40 houses in al-Kalah, Rawa, including over 90 floors and 400 rooms. During the high-risk search and building clearance the teams found and safely removed 9 IEDs, more than 1,400 IED components, and over 700 items of unexploded ordnance and abandoned explosive ordnance from the houses and surrounding areas. Many of the items were found in one house, that had been used by ISIS as an IED production facility, explaining the large number of IED components.
The families of all cleared houses can now safely go back to their homes. Their return is very much welcomed by the people who already moved back previously, as highlighted by Yussef (when he talked to us the clearance of several houses in his street was still ongoing):
We are looking forward to more people coming back when the street is safe again, now it feels like a ghost town, it's just us, we feel like ghosts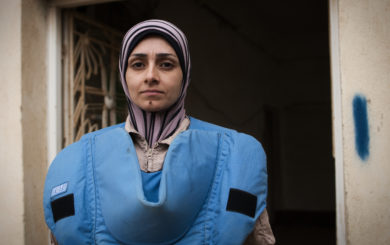 Reem (28) works as a deminer for NPA. For the past months she has been working with search and clearance of buildings after the Islamic State in al-Kalah, Iraq.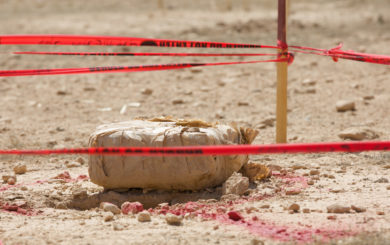 NPA clears improvised minefields in Albuhayat village, Anbar Governorate, Iraq.