Mine Action Review 2020
On Tuesday 10 November 2020, Mine Action Review held a virtual event to launch its latest annual reports and discuss global progress in clearance of landmine and cluster munition remnants.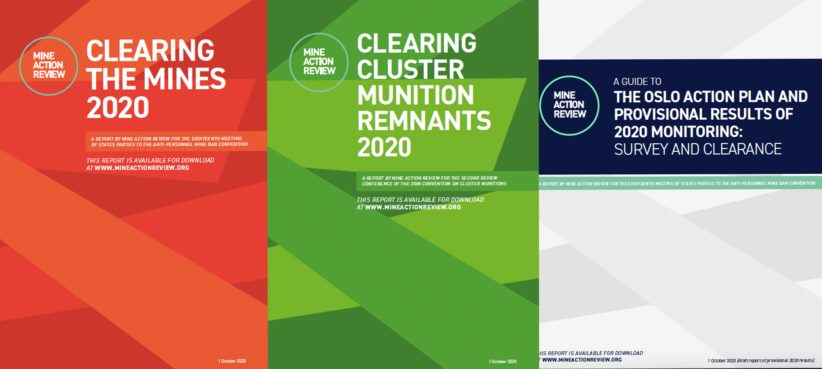 All three reports, as well as individual country reports, are available below or on the Mine Action Review website. Click here to view Mine Action Review's presentation from the virtual event, which outlines key findings.
The virtual launch of the reports was attended by 125 representatives from across the mine action sector, including national authorities, donors, demining organisations, the United National Mine Action Service (UNMAS), the UN Development Programme (UNDP), the Organization for Security and Co-operation in Europe (OSCE), and other implementing partners.

The event was chaired by Ambassador Toscano, Director of the Geneva International Centre for Humanitarian Demining (GICHD).
Lucy Pinches, Project Manager of Mine Action Review, presented key findings and analysis from this year's Mine Action Review reports: 'Clearing the Mines 2020'; a 'Guide to the Oslo Action Plan and Provisional Results of the 2020 Monitoring: Survey and Clearance'; and 'Clearing Cluster Munition Remnants 2020'.

Mine Action Review was joined on the virtual panel by Col. Ncube, Director of the Zimbabwe Mine Action Centre (ZIMAC), who presented on progress in Zimbabwe's landmine clearance under Article 5 of the Anti-Personnel Mine Ban Convention (click here to view ZIMAC's presentation); and LTC. Wazen, Operations Section Head of the Lebanon Mine Action Centre (LMAC), who presented on progress in Lebanon's cluster munition remnant clearance under Article 4 of the Convention on Cluster Munitions (click here to view LMAC's presentation).
Both affected States are making good progress under their respective treaty obligations and presented on some of the lessons learned and challenges faced on the road to completion of clearance.
The virtual event took place ahead of the Eighteenth Meeting of States Parties to the Anti-Personnel Mine Ban Convention (18MSP), 16–20 November 2020 and the Second Review Conference of the Convention on Cluster Munitions (CCM), 25–27 November 2020 and 4-5 February 2021.
Mine Action Review is funded thanks to the governments of Norway and Switzerland.
Norwegian People's Aid (NPA) is proud to support and publish the Mine Action Review project, which is an independent project whose publications provide the primary research and analysis on landmine and cluster munition remnant contamination and clearance worldwide and are key implementation tools for the sector.
NPA sits alongside The HALO Trust and Mines Advisory Group (MAG) on the Advisory Board of Mine Action Review.
For download